About Jean Karas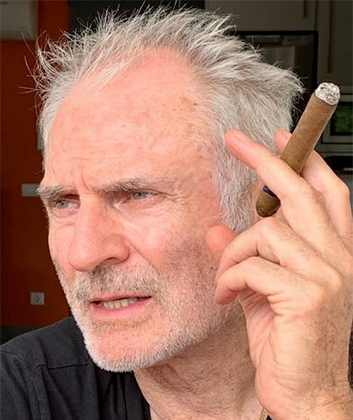 Karas was born on June 4th, 1951 in Paris in the Ile de la Cité Paris, France. Following nine years of medical school and many years of practice, he dares to attempt the adventure of his dreams: reveal his works to the public. Karas came to this realization after a visit to the exhibition of Nicolas de Staël in Martigny, Switzerland. After all, the 20th century claimed many famous self-taught artists with foundations in banking, customs, engineering, architecture, and many others who have never attended a school of fine arts, so why not an osteopath?
Karas created a space in Lourmarin in Provence where he can accommodate his friends who are painters, sculptors, photographers and others. From this environment, his work culminates as suggestive paintings, possessing spontaneity, distinctiveness, and great sensitivity. He now exhibits exclusively in France at Espace Karas, and in different countries of the European community.
Technique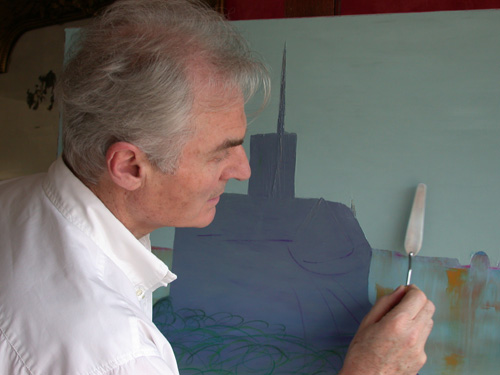 I started painting with the acrylics, because oil scared me. Then one day a German artist living in Brussels said I absolutely had to put myself in the oil. I began timidly to finish my paintings with touches of oil, but very quickly the sensuality conquered me. Now, I could never only paint in acrylics. However, I always begin my paintings with acrylic. The first draft in a way, the acrylic background that I use, dries quickly and allows me to reduce or eliminate anguish by removing the white of the canvas... a blank canvas is scary... I imagine that as a blank page!
Painting done only with a knife, of which I like the gesture, can bring the painting to life. I never draw on my paintings. Matisse would have said: "Drawing before interpreting a canvas is as different as writing a Latin text before a writing a Greek one…".
The drawing must be guessed, it is the architecture of the painting that will be born, on a sketchbook or on a sheet, to materialize a thought, a way to go, then the adventure begins directly on the canvas and I trust my subconscious and controlled chance. For me, the chance does not exist. But the best inventions, creations, innovations, especially in art are due to chance "controlled"... or left to the subconscious.
The discovery of a color, a particular effect, which appears after several overlays of color, exemplifies controlled chance. A form, an issue that arises without you really developing it consciously, yet you choose to leave, is the "controlled chance". But is your mental state at the time accepting the result as your own a subconscious expression? I think so. Subsequently art critics will say that you consciously meant this, yes, but only after the expression was controlled by chance! Perhaps that is innate.
Creativity comes from the subconscious, but has taken shape thanks to the accumulation of knowledge, food, art, intellectual curiosity, all which has been absorbed and filtered, since our eyes see, our ears hear, our fingers touch, our mouth tastes and our nose smells. We start from the known into the unknown ... after all data has been filtered by our mind.
Painting Karas: a meeting of the innate materialized and the acquis, or, that which has been agreed upon.